Parents & Carers Information, News and Updates.
Langshott Ladybirds Nursery is a committee run, non-profit making, sessional nursery situated in a self-contained outside classroom within the grounds of Langshott Primary School.
Our admission policy is inclusive: we welcome children from all backgrounds, cultures, religions and also those with additional needs.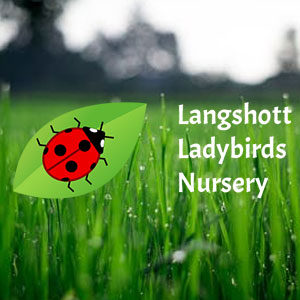 8th June 2020
2020/21 term dates are now available. Click Here to view or download
Langshott Ladybirds Community
Find Out What Is Going On At Ladybirds
Record File
Key persons keep them up to date and will arrange for you to take your child's file home for a couple of days.
Have a chat
Take the opportunity to chat with your child's key person at the beginning of a session, it's useful to share information about home and nursery.
Come & Play
Ladybirds is a fun place to be and parents/carers are very welcome to spend time with us, join in the fun and play.
Outside Whiteboard
Updating you on up to the minute nursery news and the planning board informing you of some activities available to your child throughout the week.
Display Screen
We display photographs on the computer taken throughout the session giving you an idea of the opportunities your child will have had throughout the week.
Contact Us
Please call 07713-622-761 or email with any questions or to arrange to look around our nursery.
Photo Board
There are also displays around the room containing photos of children at play with captions informing parents of the learning opportunities.
See the Plans
Our planning is displayed on the door to the cupboard, this is available to all, your child's key person would be very happy to talk you through it.
Children's Library
Following a suggestion from a parent, we have used some of the money raised by the Friends to set up a lending library of books for the children at Ladybirds. From their second term onwards, your child is able to choose or change a book during their session at Ladybirds and take it home to share with you.
Please ensure that the book is returned by the due date as a charge will be made for lost or late books.
Friends of Langshott Ladybirds
The Friends of Langshott Ladybirds is primarily for parents and carers with children at Ladybirds to get together socially and organise fundraising events to raise money for the nursery.
Regular events include coffee mornings (some purely as a social get together, others to discuss fundraising ideas), scavenger treasure hunts, the Toddle Waddle, and the Easter Extravaganza.